UPDATE: STORYHIVE Voices intake deadline has been extended to midnight PT on May 11, 2023 to welcome in even more amazing community stories. Make sure to send in your application before then for your chance to receive $10,000 in funding.
When Kris Kolesnikoff's project Music for All was selected for TELUS STORYHIVE, it not only meant that he'd receive production funding and distribution for his 10-part instructional series, it also meant he'd receive training from industry experts, who helped with everything from broadcast standards to the legal aspects of production plus hands-on tips for lighting.
One piece of advice continues to stick with him:"Organize organize organize, right from the start! It's surprising how much footage you'll find yourself with, and if it isn't well organized you will lose lots of time trying to parse through what is what," he says. "The STORYHIVE training and access to a community of support was great, right from the initial training sessions through to the feedback from our program manager."
Do you want $10,000 to create content? How about getting access to over 1 Million new viewers? Applications for Voices 3.0 are now open and STORYHIVE is encouraging new and emerging creatives from B.C. and Alberta to apply for a chance at $10,000 to produce how-tos, visual podcasts, docuseries, lifestyle shows and more! Apply before midnight PT on May 2, 2023 with your idea and you could be one of up to 100 creators to receive $10,000 in production funding, customized online training sessions, access to a community of content creators and distribution on TELUS Optik TV and online channels.
Visit storyhive.com/voices to get started.
A strong idea is the key to success. Now's the chance to share yours!
Kolesnikoff heard about STORYHIVE right before the deadline for a previous program, so he scrambled to get his idea on paper and made it just before applications closed.
"There was a great supplement that went along with the application questions. It had a lot of examples that helped greatly with the process."
For fellow creators considering applying to STORYHIVE Voices, he says having a strong idea is essential.
"Talk to potential subjects well ahead of time, because you don't know how their input might influence your premise. You may find you want to pivot your idea to better capture that community."
As for the type of project that works for STORYHIVE? There's a lot of flexibility, but Kolesnikoff says community, diversity and inclusion are all important pillars of the program.
"Through your project, how can you either educate, uplift or give back? Are there people or aspects of your community who are under-acknowledged but deserve to be recognized?"
Kolesnikoff's project, Music For All, provides beginner musicians in the Okanagan Valley easy access to free lessons where Kolesnikoff and his partner Karliana offer a crash course on how to play guitar, from picking it up for the very first time all the way through writing their very first song. It also highlights their project LectureOwl, where local musicians can take live online lessons from high level instructors.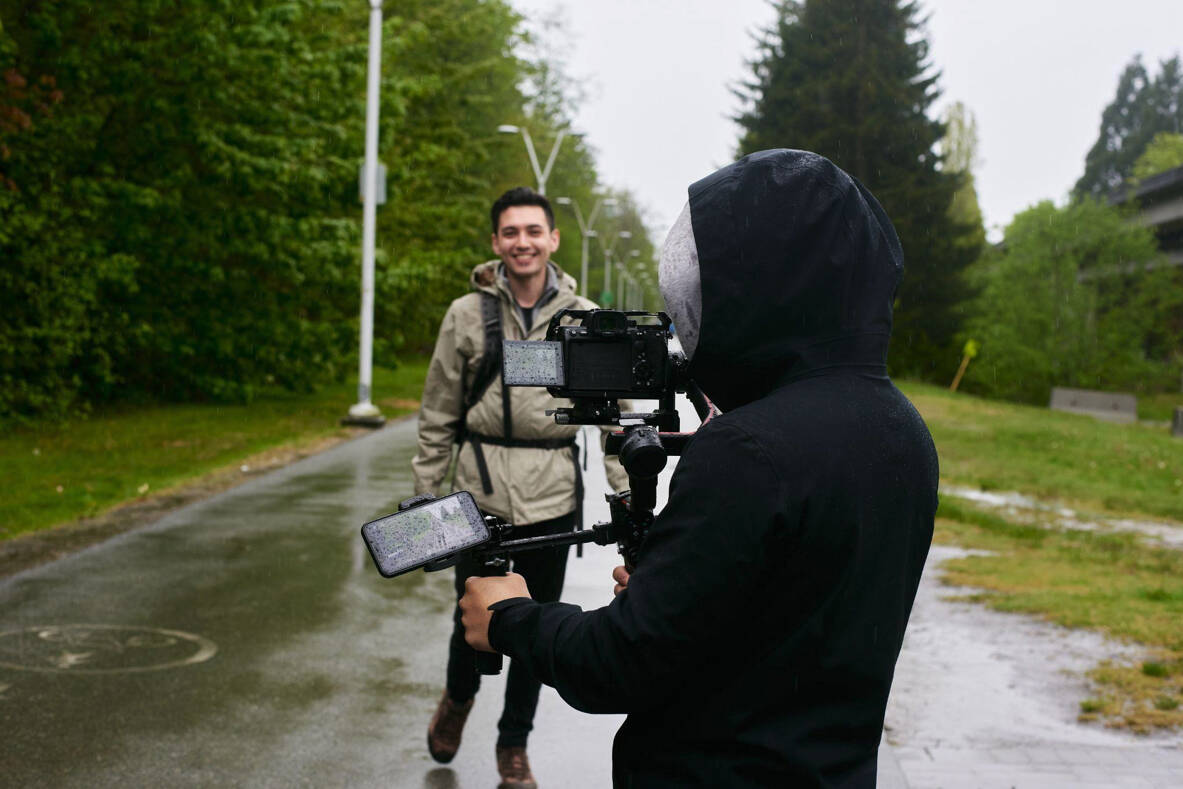 Your Passion, Your Community. Apply for STORYHIVE Voices today!
For the Voices program, content creators are welcome to apply with an idea for an instructional series or something completely different like a travel or talk show. The important thing is to share a story unique and important to your local community.
"Join us as we celebrate our third season of STORYHIVE Voices! We are so proud that we have been able to grow this program aimed at new and emerging content creators interested in user-generated content styles over the last two years," says Audrey Kiss, STORYHIVE territory manager. "One goal with all STORYHIVE programs is to showcase that content creators don't need to be from the big cities to create meaningful content. We're looking forward to sharing the stories of communities across B.C. and Alberta and can't wait to hear from the people of Penticton."
Application intake opens on April 4, 2023. STORYHIVE is funding up to 100 creators across B.C. and Alberta with $10,000 in production funding, customized online training sessions, access to a community of content creators and distribution on TELUS Optik TV and online channels.
No experience required! Your Passion, Your Community. Send in your application to storyhive.com/voices by May 2, 2023!
Find STORYHIVE on Facebook | Instagram | Twitter | TikTok | YouTube |
STORYHIVE is celebrating their 10 year anniversary this year. Since 2013, TELUS STORYHIVE has been able to support a community of thousands of local content creators across British Columbia and Alberta, providing over $52 million in production funding and creating a safe space for storytellers to hone their skills and bring the projects they care about to life.