Being evacuated and displaced by fire probably wasn't in the vacation itinerary for 120 people staying at the Penticton Fairfield Marriott on Monday.
Around 4 p.m. a fire broke out in the roof of a fourth-floor unit, filling the hallway with smoke and forcing the hotel guests and staff to evacuate the hotel on Eckhardt Avenue West. Smoke could be seen coming from the roof of the hotel.
As Penticton firefighters investigated the fire, guests gathered under the shade of the nearby trees and waited for word on what was happening. The city's Emergency Support Services (ESS) provided evacuees with water and snacks while firefighters updated guests that they wouldn't be returning to their hotel rooms that night.
The fire appears to have originated in the roof area above a fourth-floor unit and continued into the roof, said Penticton Fire assistant chief Rob Trupp. The fire was knocked down Monday evening but the hotel will remain closed for further investigation, he said.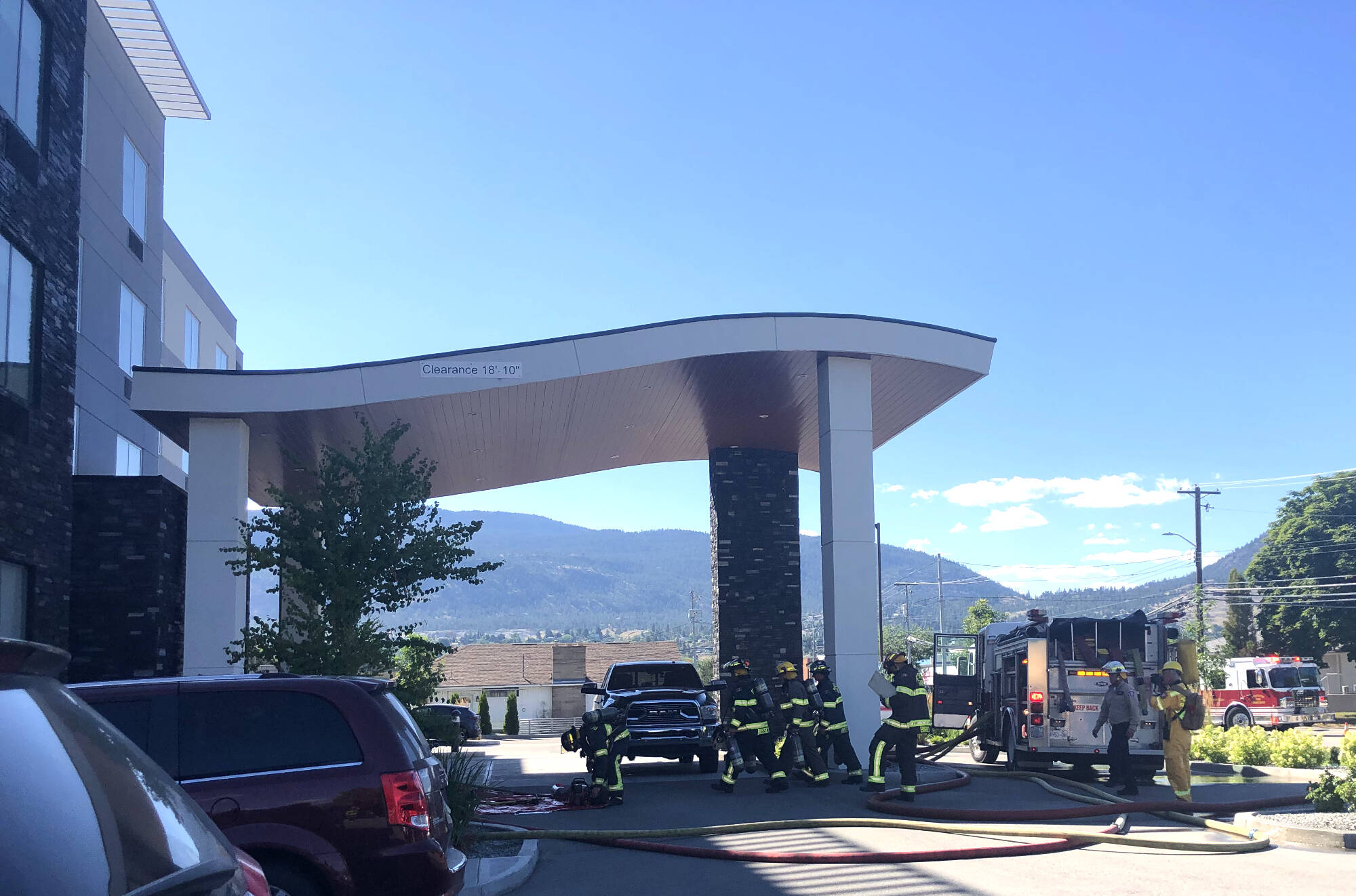 All guests were registered with ESS and arrangements were made for them to get all their belongings out of the hotel, he added.
On Tuesday, Marriott staff said the hotel remains closed with hopes for its re-opening for the BC Day weekend but that isn't for sure.
In the meantime, they said they assisted their guests to find alternative accommodations.
On Monday, Penticton city opened up its Emergency Reception Centre on Ellis Street where the 120 evacuees received support from the 12 ESS volunteers in the way of reunification with family and friends, mental health and meals for yesterday and today.
"The team stayed until past midnight to ensure any evacuees requesting supports received them," said Adam Goodwin, coordinator of the emergency reception centre.
The 12 ESS team members also provided referrals for toiletries, clothing and necessities.
Resources were pulled from the grass fire burning near the Pine Hills Golf Course to assist with the fire at the Fairfield Marriott, making for a very busy day for local firefighters.
READ MORE: Smoke evacuates vacationers at the Penticton Fairfield Marriott
READ MORE: BC Wildfire brings grass fire under control
To report a typo, email: editor@pentictonwesternnews.com.
<>
Don't miss a single story and get them delivered directly to your inbox. Sign up today for the Penticton Western News Newsletter.
<>
---
@PentictonNews
newstips@pentictonwesternnews.com
Like us on Facebook and follow us on Twitter.