Ironman Canada will be returning to Penticton for at least five more years, confirmed Ironman Penticton's race director.
As Penticton winds down from an epic week of everything Ironman, race director Susie Ernsting said Peach City and how it welcomed the event blew her away.
"I'm getting glowing reviews from the athletes and volunteers," said Ernsting. "Penticton was everything I had hoped for and more. The way Penticton embraced us, the athletes and the support – I was just blown away."
Ironman Canada has a five-year contract with the city of Penticton, she said.
Tens of thousands lined Lakeshore Drive, Main Street and other areas of the race to cheer on the 1,500 athletes while over 1,500 volunteers provided water stations and traffic support around the 226-kilometre course.
The turnout of spectators cheering the athletes on was nothing short of of phenomenal, Ernsting said.
A triathlete herself, Ernsting competed in Penticton's Ironman in 2010 and said she loved the course and the beautiful surroundings.
"Athletes love a challenge and this course offers that. Also, there are very few Ironmans that can offer a loop ride."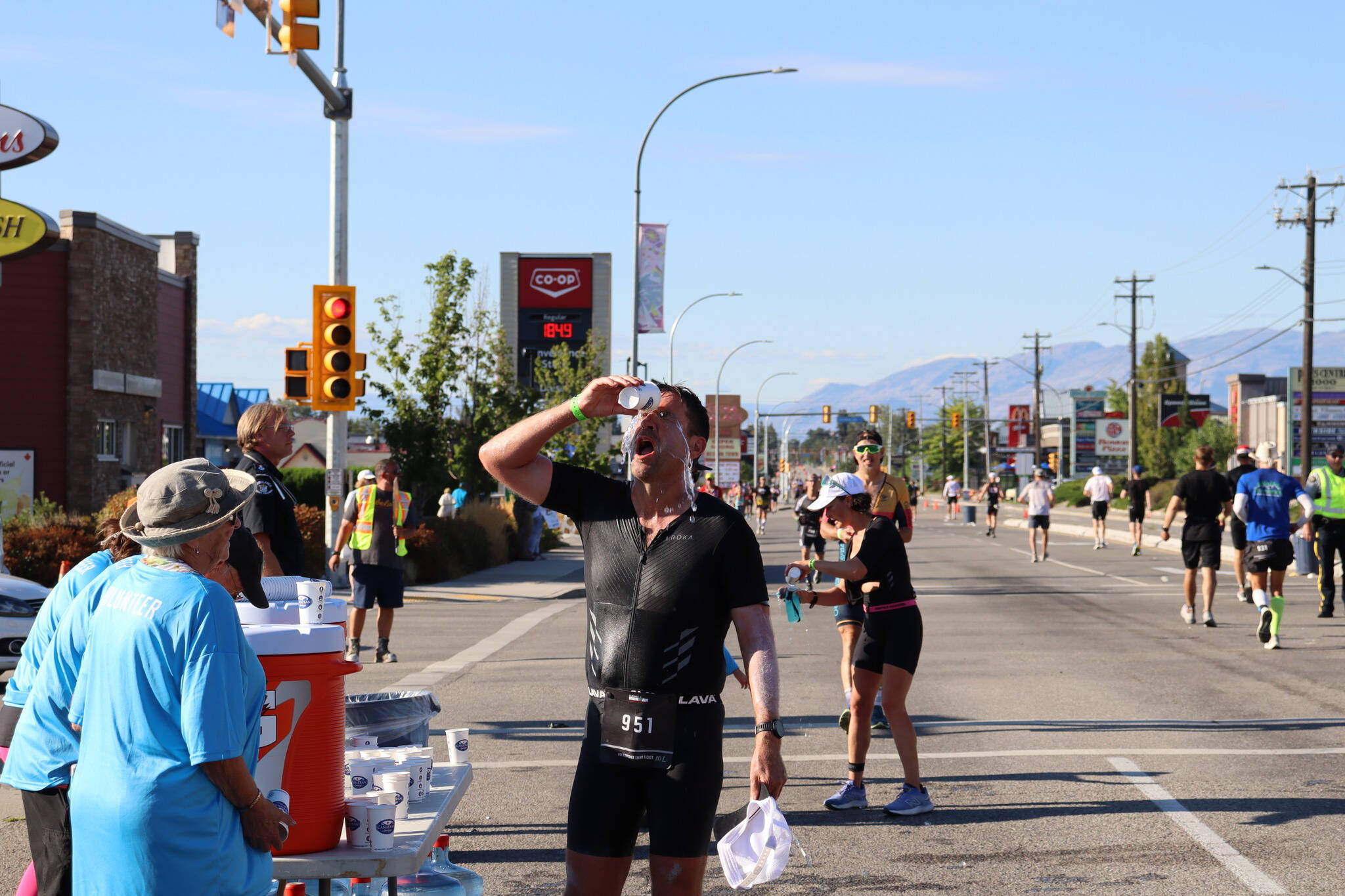 Ernsting and her triathlete club from North Vancouver come to train in Penticton every summer, combining vacation with practice.
This year's Ironman in Penticton didn't have a pro category, which meant there wasn't any prize money.
The hope is to bring a professional category back to Penticton in 2023, but Ernsting said that will depend on the Ironman schedule and how it balances with the Kona, Hawaii Ironman.
"The fact that professional triathlete Jeff Symonds gave up the opportunity to race at Kona to compete in Ironman in his hometown and then wins it, makes his story that much more inspiring."
Volunteers Made Ironman A Success
The 1,500-plus volunteers who put on blue shirts were the ones that made Ironman Canada the success it was, the city and Ironman organizers said.
The city offered a thank you to the volunteers at Gyro Park on Monday, following the race the day before.
"We would also like to thank the thousands of people who lined the streets, wrote their messages in chalk, held fantastic signs, shook their cow bells and cheered on the athletes. WOW," the city wrote on its Facebook page.
"Thanks to you, the return of Ironman Canada will be etched in many memories for years to come."
Volunteer husband and wife Paul and Pauline Landry came from West Kelowna to volunteer at one of the water stations. Paul is a multi-medal winning runner at Deaflympics, spanning his 24-year athletic career. He has represented Canada eight times at the Deaflympics on the track and as coach.
The couple were hoping to connect with an American deaf athlete who competed in last Sunday's race.
The Landrys were volunteering at a water station as a fundraiser for Quota International Penticton, a service club which supports Deaf and Hard of Hearing people and disadvantaged women and children.
To report a typo, email: editor@pentictonwesternnews.com.
<>
Don't miss a single story and get them delivered directly to your inbox. Sign up today for the Penticton Western News Newsletter.
<>
---
@PentictonNews
newstips@pentictonwesternnews.com
Like us on Facebook and follow us on Twitter.