As if wildfire tensions aren't high enough in the North Shuswap.
Pressure may have increased Wednesday night, Aug. 23, as rumours started flying that the BC Wildfire Service (BCWS) was pulling out of the area for safety concerns following a social media post from a group billing itself as the Convoy of Truth and Freedom that was headed to the area.
This was followed by a post by BCWS on social media sometime after 9 p.m. (Aug. 23), which was deleted within the hour, suggesting crews were leaving the North Shuswap. However, it stated fire crews were still committed to fighting the Bush Creek East Complex blaze.
"As of tonight, BC Wildfire Service unit crews, contractors, heavy equipment operators, and structural firefighters from the North Shuswap area will be reassigned to other areas of the Bush Creek East and Ross Moore Lake wildfires," wrote BCWS in a since-deleted post.
"This decision was not made lightly. The safety of people is our primary concern."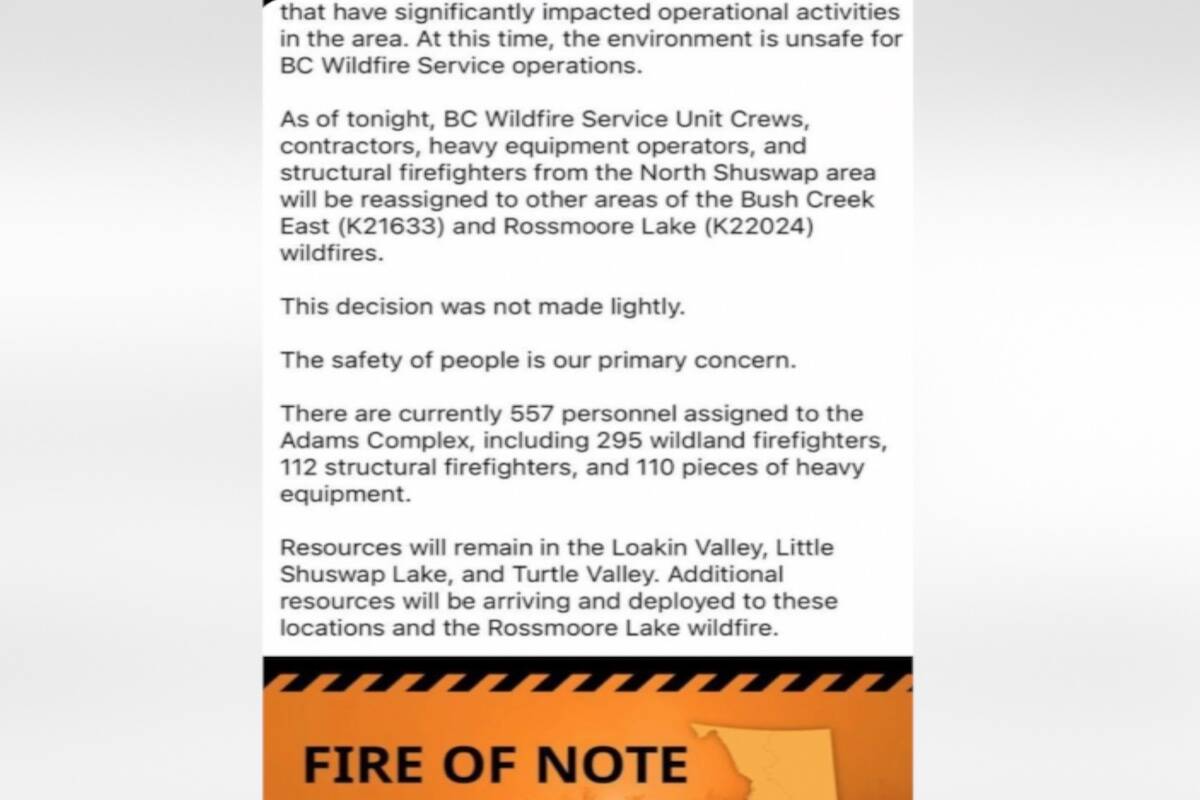 The post by Convoy of Truth and Freedom called for a gathering at 6 p.m. at the Shuswap Community Centre parking lot that would leave promptly at 6:20 p.m., travelling down the Trans-Canada Highway to Sorrento.
"We wish to engage in a diplomatic and peaceful conversation with checkpoint officers to seek clarity as to why such a large block," said the post. "The threat of fires is greatly reduced."
Highway 1 has been closed since Aug. 18, between Chase and Sorrento due to wildfires, with RCMP allowing intermittent traffic only.
Former North Shuswap resident Danielle Todd, who is on-site supporting family, said Wednesday that locals and BCWS had a constructive communicative conversation and were working together to combat the wildfire.
She also told Black Press Media that a semi-truck was being loaded with supplies in Kamloops to head to the North Shuswap at 4 p.m., Wednesday. She added that the driver was believed to have a permit from the Columbia Shuswap Regional District (CSRD).
However, Wi-Fi and data in the North Shuswap have been intermittent, and all Todd could say was she was told the truck was stopped at the Scotch Creek bridge on Squilax-Anglemont Road.
Todd did confirm that BCWS crews had left the Scotch Creek and Celista area, but did not know why.
In an update on the CSRD's website at 6:30 p.m., it says that BCWS had advised the regional district to "suspend the issuance of temporary access permits for the North Shuswap at this time." The wildfire service had designated the area as unsafe for travel.
Temporary permits may be issued for the Sorrento area if the area remains safe for public access.
Shortly after 7 p.m., a video was posted to social media showing a small group of people confronting the RCMP blockade on Highway 1.
Black Press has reached out to the BCWS and RCMP for comment.
Comments on social media suggest the convoy was also trying to deliver supplies to residents who have remained behind in the North Shuswap, defying an evacuation order.
The thought of a convoy did not sit well with other folks.
"I've been trying to provide information for my community as to what's going on, the majority, 95 per cent, that are sitting out there in Kamloops or Salmon Arm or Calgary or Edmonton or wherever the hell they are waiting out this tragedy, trying to provide information with a modicum of levity," said CSRD North Shuswap director Jay Simpson.
He only found out about the convoy post a few hours after the scheduled 6 p.m. meeting time.
"That somebody then takes this and twists it into some nasty, right-wing bulls—t is…unbelievable. To add this to the tragedy we've just lived through and are trying to recover from is so sad."
Just before 10 p.m., the following was shared on the Facebook group North and South Shuswap Fire Watch 2023: "If anyone's at the convoy at the blockade right now can you please leave immediately? We have fire crews ready to come in and work with us locals and let us help and give info and assistance; all you guys are doing is causing a big scene and making this more difficult. I know it seems like a good cause but it's just making things worse, everyone please leave now."