Roni Keeley couldn't help but think about the last 34 years of her life when she received a prestigious Canadian award for volunteerism in front of Okanagan Lake in Penticton.
From volunteering at the Peach Festival to Ironman Canada and everything in between for over three decades, Keeley's love for the community was finally recognized when she received the Sovereign's Medal for Volunteers on Wednesday (Feb. 23).
Issued as a federal award from Rideau Hall in Ottawa, Ont., the medal is considered an official Canadian honour.
It wasn't just the 34 years of volunteer work, however, that came to the mind of Keeley when she first saw the medal.
"I wish my dad and my mom could be here to see this," she said.
"I'm very proud, I love Penticton."
South Okanagan—West Kootenay MP Richard Cannings was also proud — so much so that he took the time to reflect on the importance of community members like Keeley.
"In the last six years of being the MP, I've learned so much about this town," he said.
"When you're in this position, you get to meet people like Roni and other groups that really keep this town going and make the community."
Keeley was first introduced to volunteerism in Penticton on Oct. 28, 1988.
She walked into the Trinity Care Centre and met program coordinator Andrea Naylor, who has since grown to see Keeley's impact on Penticton first hand.
"Her kindness, dedication, willing to help and contagious laugh are all that sets her apart from others," she said.
Along with volunteering at the Trinity Care Centre for 34 years, the recipient of the award has given her time to The Children's Festival, Peach City Beach Cruise, The Elvis Festival and Ribfest, among other events.
"All of which she selflessly helps in any way they ask, sometimes starting very early in the morning or going late into the evening," Naylor added.
Keeley grew up with a few health problems, according to Naylor, but that's never stopped her from trying to put a smile on others' faces.
"I really do enjoy working with people," Keeley stated.
"My motto is to bring a smile to everyone."
The Penticton resident was first made aware of the award in September of 2019 when she received a letter from Rideau Hall and the Chancellery of Honours. The emergence of COVID-19 shortly after delayed the ceremony until Wednesday.
"It's such a great community for volunteering and I've really grown to appreciate how important it is and conversely where we'd be without them," MP Cannings said.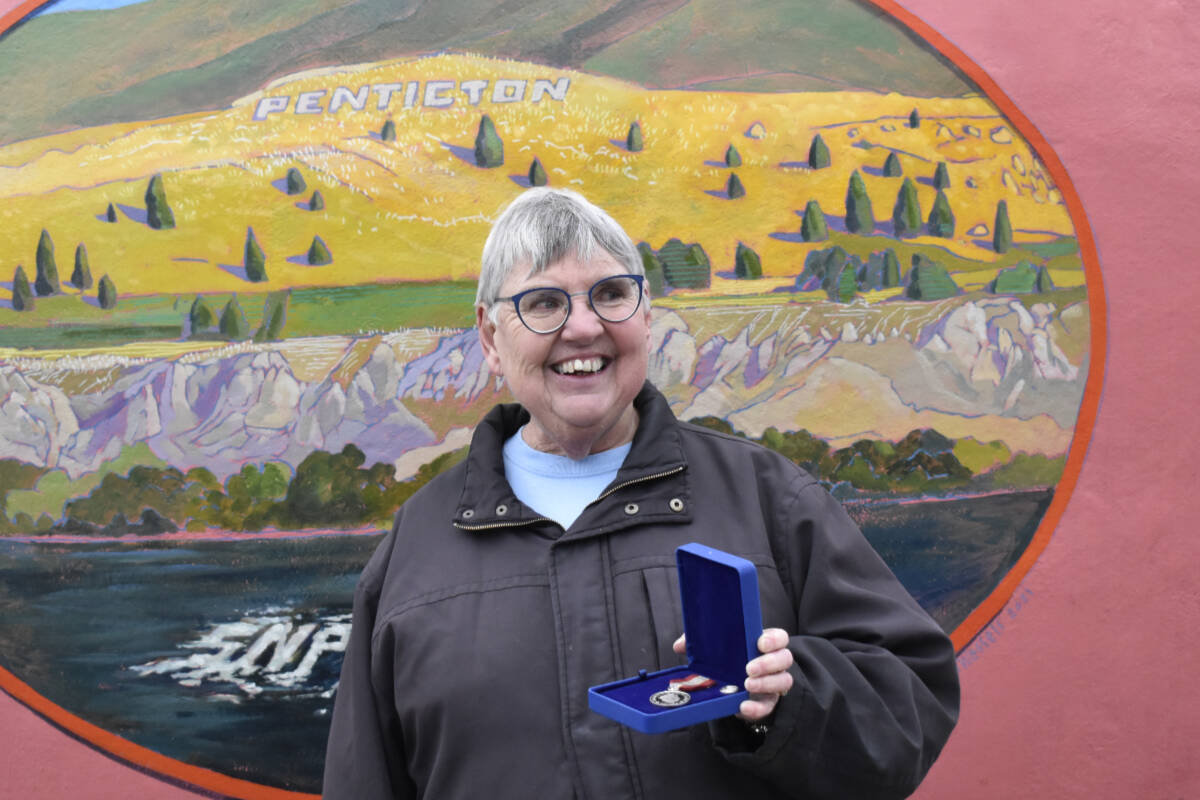 ---
@lgllockhart
logan.lockhart@pentictonwesternnews.com
Like us on Facebook and follow us on Twitter.